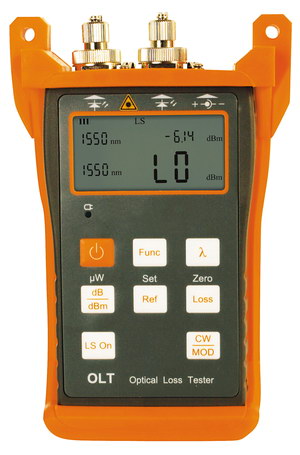 Features:
* Applicable on singlemode/multimode fibers
* Microprocessor & linear amplifier ensure long-time accuracy
* Quick response, no warm-up
* Interchangeable connectors: FC/SC/ST
* Dual-way power supply: 9V alkaline battery/Optional AC adapter
* Pocketsize, large LCD display
* Multi-wavelength measurement
* Display units: dB/dBm/mW/?W
* Link loss testing
* CW/Modulation mode (270/1K/2K Hz)
* Low power indication/Auto off
OLT-20 series Optical Loss Tester
OLT-20 Optical Loss Tester integrates laser source module and power meter module in one set, which can perform power testing and link loss testing in optic fiber network conveniently. The typical applications include fiber identification, attenuation and loss measurement, continuity verification and fiber link transmission quality evaluation for installation, routine inspection and daily maintenance of MAN, WAN and CATV systems as well as for lab test and research work.
Specifications:
Model

OLT-20A

OLT-20C

Laser Source Module

Wavelength (¡À20nm)

1310/1550

1310/1550

Output Power

¡Ý -7dBm

Spectral Width

¡Ü 5nm

Emitter Type

FP-LD

Stability

¡À0.05 dB/15min; ¡À0.10dB/8hr@1310/1550nm;

MOD Frequencies

270, 1K, 2K Hz

Connector Type

FC/PC (Interchangeable ST, SC)

Optical Power Meter Module

Detector Type

InGaAs

Measurement Range

-70 ~ +10dBm (1)

-50 ~ +27dBm

Accuracy

¡À5%¡À0.01nW (¡À0.5dB@850nm)

¡À5%¡À1nW (¡À0.5dB@850nm)

Resolution

0.01dB

Calibrated Wavelength(2)

850, 1300, 1310,1490, 1550, 1625nm

General Specifications

Power Supply

9V Alkaline battery / optional 9V AC adapter

Battery Life

OPM mode¡Ý40 hours; OPM+SLS mode¡Ý20 hours

Operating Temperature

-20¡ãC ~ 50¡ãC

Storage Temperature

-40¡ãC ~ 70¡ãC

Relative Humidity

0 to 95% (Non-condensing)

Weight

300g

Dimension (H¡ÁW¡ÁT)

145¡Á75¡Á25mm
Note:
(1) For Model A&B At 850nm, the lower limit of measurement range is -60 dBm;
(2) Other wavelengths are open for customization.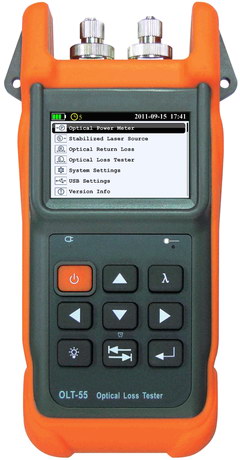 OLT-55 series Intelligent Optical Loss Tester
OLT-55 Intelligent Optical Loss Tester is an all-in-one loss tester integrated with Stabilized Laser Source, Optical Power Meter, Optical Loss Tester, ORL Tester and Length Testing functions. It can perform automatic bidirectional loss test on single fiber with Pass/Fail assessment. With rich functions, flexible configuration and excellent user friendly design, OLT-55 is the ideal optical loss tester to completely evaluate the optical fiber link condition in FTTx, LAN and CATV network.
Automatic Bidirectional Loss Test on Single Fiber
Two OLT-55 at both ends of a single optical fiber can perform bidirectional loss test by just pressing one button and can automatically measure and display the entire fiber attenuation to help users acquire complete and accurate optical fiber loss information.
Features:
* All-in-one: SLS + OPM + OLT + ORL + Length test
* Optical power monitoring (Auto power trace)
* Bidirectional loss test on single fiber
* ORL test
* Pass/Fail assessment
* Automatic wavelength identification/switch (AutoID)
* Remote reference value setting
* Internal clock & fiber S/N editable
* 1000 test records (CSV) storage & management
* Data transfer to PC via USB (Driver-free)
* Auto test records save in local unit/remote unit/both units
* USB power charging
* Over 35 hours continuous operation
* Multilanguage support
* No warm-up, quick start
* High resolution color LCD
* Pocketsize, lightweight and easy-to-use
Specifications:
Stabilized Laser Source

Wavelength (¡À20nm)

1310/1550nm

1310/1490/1550nm

1310/1550/1625nm

Spectrum Width

¡Ü5nm

Emitter Type

FP-LD

Output Power

>-4dBm

Power Stability

¡À0.05dB/15min; ¡À0.10dB/8hr

Output Mode

CW, 270Hz, 1KHz, 2KHz

Optical Power Meter

Calibrated Wavelength

850, 1300, 1310, 1490, 1550, 1625nm

Power Range (dBm)

-70 ~ +10 (-60 ~ +10@850nm)

-50 ~ +27

Display Unit

W/mW/¦ÌW/nW/pW/dBm/dB(REF)

Detector Type

InGaAs

Accuracy

¡À5%¡À0.01nW (¡À0.5 dB@850nm)

¡À5%¡À1nW (¡À0.5 dB@850nm)

Resolution

0.01dB

Auto Wavelength Identification

Yes (With our specified Stabilized Laser Source)

MOD Identification

270Hz, 1KHz, 2KHz

Optical Loss Test

Link Loss Range

50dB (1550nm, 200km)

Link Loss Accuracy

¡À0.25dB

Link Loss Test Time

< 2 seconds per wavelength

ORL Test (Optional)

ORL Range

0~60dB (APC connector)

ORL Accuracy

¡À0.75dB@(0~50dB), ¡À1.5dB@(50~60dB)

ORL Uncertainty

¡À0.5dB@20dB

General Specifications

Connector

FC (Interchangeable SC, ST)

Data Storage

1000 records

Data Interface

USB

Backlight Display

Yes

Auto Off

Yes (Auto-off after 5 minutes idle)

Power Supply

Lithium Battery/ AC Adapter

Battery Life

Continuous operation ¡Ý35 hours

Operating Temperature

-20¡ãC ~ 50¡ãC

Storage Temperature

-40¡ãC ~ 70¡ãC

Relative Humidity

0 ~ 95% (Non-condensing)

Weight

350g

Dimensions (H¡ÁW¡ÁT)

177¡Á80¡Á44mm
Order information: