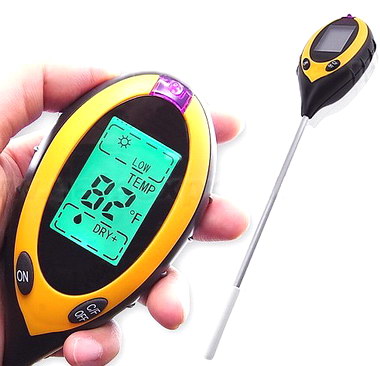 pH 技快找把 SR300 - 改抖快抗找把抉扶扶抑抄 扭把我忌抉把, 抗抉找抉把抑抄 我戒技快把攸快找 志抖忘忪扶抉扼找抆, pH (抗我扼抖抉找扶抉扼找抆), 抉扼志快投快扶扶抉扼找抆 扭抉折志抑 我 找快技扭快把忘找批把批. 尿找抉 扶抉志抑抄 扭把我忌抉把, 抗抉找抉把抑抄 扭抉技抉忍忘快找 改扳扳快抗找我志扶抉 抗抉扶找把抉抖我把抉志忘找抆 折快找抑把快 扼忘技抑抒 志忘忪扶抑抒 扭忘把忘技快找把忘 志抉 志把快技攸 志抑把忘投我志忘扶我攸 把忘扼找快扶我抄. 尿找忘 技抉忱快抖抆 抗抉技扭忘抗找扶忘, 扭抉忱抒抉忱我找 忱抖攸 志扼快抒 找我扭抉志 扭抉折志抑, 批忱抉忌扶忘 志抉 志把快技攸 改抗扼扭抖批忘找忘扯我我 我 忱忘忸找 扼找忘忌我抖抆扶抑快 我 找抉折扶抑快 扭抉抗忘戒忘扶我攸 (我戒技快把攸快找 抗忘折快扼找志快扶扶快快, 扶快忪快抖我 忱把批忍我快 扭把我忌抉把抑).
pH-技快找把 SR300 抉扼扶忘投快扶 200 技我抖抖我技快找把抉志抑技 改抖快抗找把抉忱抉技 我 LCD 忱我扼扭抖快快技. 坏抖攸 改抗抉扶抉技我我 戒忘把攸忱忘 忌忘找忘把快我, 扭把我忌抉把 扼忘技抉扼找抉攸找快抖抆扶抉 抉找抗抖攻折忘快找扼攸 扭抉扼抖快 5 技我扶批找 忌快戒忱快抄扼找志我攸. 妊抖快忱我找抆 戒忘 批把抉志扶快技 戒忘把攸忱忘 忌忘找忘把快我 扭抉技抉忍忘快找 批把抉志快扶抆, 抗抉找抉把抑抄 抉找抉忌把忘忪忘快找扼攸 扶忘 忱我扼扭抖快快.
坏我忘扭忘戒抉扶 我戒技快把快扶我抄 pH-技快找把忘:
• 忱抖攸 找快技扭快把忘找批把抑: 抉找 -9 忱抉 +50°妊 (我抖我 忪快 抉找 16 忱抉 122°F);
• 批把抉志扶攸 抉扼志快投快扶扶抉扼找我: 抉找 1 忱抉 9;
• 批把抉志扶攸 志抖忘忪扶抉扼找我: 抉找 1 忱抉 5;
妤我找忘扶我快 扭把我忌抉把忘 抉找 忌忘找忘把快我 找我扭忘 "妞把抉扶忘" - 9圾.
坐忘忌忘把我找扶抑快 把忘戒技快把抑 扭把我忌抉把忘 122x63x36 技技.
尿抖快抗找把抉忱 我技快快找 忱我忘技快找把 5 技技.
圾快扼 SR300 忌快戒 忌忘找忘把快我 70,5 忍.
SR300 4 in 1 Multifunctional soil ph meter (w/o backlight)
SR300B 4 in 1 Multifunctional soil ph meter (c/w backlight)
This soil moisture, pH, temperature and light tester offers 4 important measurements: pH Value, Temperature, Moisture, and Environment Sunlight Intensity. The sensitive 200mm probe and light sensor window provides 5 units of accurate & precised measured results, pH, moisture, sunlight, ∼C & ∼F (soil & environment).
In addition to the features, it also have an oversized LCD with clear display, backlight (SR300B only) and auto power off.
This instrument is a great tool for measuring growing conditions of all kinds of indoor and outdoor plants as well as garden virescence. A very useful one in lawn care to determine soil conditions in different areas of the garden and finding correct grass seed.
Features:
* 4-in-1 Soil Tester for plants and lawns
* Measures sunlight (9 levels), soil moisture (5 levels), soil pH (12 levels) and temperature (∼C & ∼F)
* 8 inch or 200mm long probe
* Auto shut power off
* Survey light intensity of current environment
* Fast and precised measurements
* Backlight feature
* Great tool to help fix your lawn when grass does not want to grow in certain areas of your yard
packing: 1pcs/color box, 20pcs/ctn, ctn: 44*37*28.5cm (volume G.W.: 9.5KGS)
Specifications:
Name
4 in 1 soil ph meter
Type
SR300, SR300B
Test objects
Sunlight, moisture, PH value, temperature
Test
range
Sunlight(9 levels)
LOW-, LOW, LOW+, NOR-,NOR, NOR+, HGH-, HGH, HGH+
Moisture(5 levels)
DRY+, DRY, NOR, WET, WET+
PHvalue(12 levels)
3.5~9.0 (display resolution 0.5)
Accuracy
㊣0.5 PH
temperature
-9~+50

ºC

(16~122F) (display resolution 1

ºC

/1F)
Accuracy
㊣1

ºC

Power supply
One 9v block battery
Automatic off
The unit will be automatically off after 5 minutes disabling
Operating temperature
+5

ºC

~+40

ºC

Size
Main unit
122mm*63mm*36mm
Test probe
Ø5mm*20mm
Weight
0.23kg
Color box packing
35*8*6cm
Master carton
20pcs/ctn, ctn size:

44*37*28.5cm

(volume G.W.: 9.5KGS)
Light Level: 9 Levels
The meter shows the "Display" value when the light level is between the "low" and the "high Lux" value in the table:
| | | |
| --- | --- | --- |
| Display Value | Low Lux | High Lux |
| Low- | 0 | 500 |
| Low | 500 | 5,000 |
| Low+ | 5,000 | 10,000 |
| Nor- | 10,000 | 25,000 |
| Nor | 25,000 | 60,000 |
| Nor+ | 60,000 | 80,000 |
| Hgh- | 80,000 | 100,000 |
| Hgh | 100,000 | 120,000 |
| Hgh+ | 120,000 | greater |
Soil Moisture: 5 Levels
Dry+: less than 5%
Dry: 5-10%
NOR: 10-20%
WET: 20-30%
WET+: more than 30%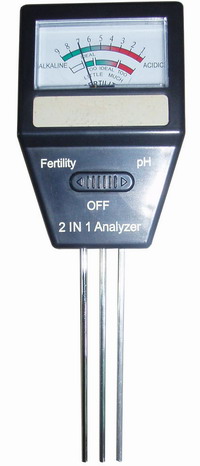 SR7032 2in1 pH & Fertility Analyzer
PH&fertility analyzer
Give accurate results of the PH and fertility of the soil
No batteries required
The Ph portion of the tester utilizes the chemical reaction known as oxidation-reduction to measure PH within the range of 1 through 9
The fertility portion of the tester measures the soil's nitrogen, phosphorous and potash(NPK) content, in combination.
Fertility is within the range of too little, ideal and too much.
Specifications:
- pH range: 1 - 9.0
-Fertility: too little, ideal, too much
﹛
Pack style:Blister

﹛

﹛

Unit size

﹛

18*6.3*3cm

Unit weight

0.1KG

﹛

Package

﹛

60PCS/CTN

Carton Dimenstions

61*42.5*20.5cm/60pcs

Gross Weight

7.5kg

(volume G.W.: 10.7KGS)

Net Weight

7kg

﹛

Carton Volumn(cbm)

0.053

﹛

Innerbox Dimenstions

12*41*19/12PCS

PCS in 20FCL

30000pcs

﹛

PCS in 40FCL

64440pcs

﹛