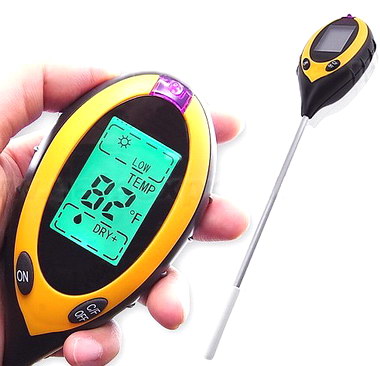 pH метр SR300 - электронный прибор, который измеряет влажность, pH (кислотность), освещенность почвы и температуру. Это новый прибор, который помогает эффективно контролировать четыре самых важных параметра во время выращивания растений. Эта модель компактна, подходит для всех типов почвы, удобна во время эксплуатации и даёт стабильные и точные показания (измеряет качественнее, нежели другие приборы).
pH-метр SR300 оснащен 200 миллиметровым электродом и LCD дисплеем. Для экономии заряда батареи, прибор самостоятельно отключается после 5 минут бездействия. Следить за уровнем заряда батареи помогает уровень, который отображается на дисплее.
Диапазон измерений pH-метра:
• для температуры: от -9 до +50°С (или же от 16 до 122°F);
• уровня освещенности: от 1 до 9;
• уровня влажности: от 1 до 5;
Питание прибора от батареи типа "Крона" - 9В.
Габаритные размеры прибора 122x63x36 мм.
Электрод имеет диаметр 5 мм.
Вес SR300 без батареи 70,5 г.
SR300 4 in 1 Multifunctional soil ph meter (w/o backlight)
SR300B 4 in 1 Multifunctional soil ph meter (c/w backlight)
This soil moisture, pH, temperature and light tester offers 4 important measurements: pH Value, Temperature, Moisture, and Environment Sunlight Intensity. The sensitive 200mm probe and light sensor window provides 5 units of accurate & precised measured results, pH, moisture, sunlight, °C & °F (soil & environment).
In addition to the features, it also have an oversized LCD with clear display, backlight (SR300B only) and auto power off.
This instrument is a great tool for measuring growing conditions of all kinds of indoor and outdoor plants as well as garden virescence. A very useful one in lawn care to determine soil conditions in different areas of the garden and finding correct grass seed.
Features:
* 4-in-1 Soil Tester for plants and lawns
* Measures sunlight (9 levels), soil moisture (5 levels), soil pH (12 levels) and temperature (°C & °F)
* 8 inch or 200mm long probe
* Auto shut power off
* Survey light intensity of current environment
* Fast and precised measurements
* Backlight feature
* Great tool to help fix your lawn when grass does not want to grow in certain areas of your yard
packing: 1pcs/color box, 20pcs/ctn, ctn: 44*37*28.5cm (volume G.W.: 9.5KGS)
Specifications:
Name
4 in 1 soil ph meter
Type
SR300, SR300B
Test objects
Sunlight, moisture, PH value, temperature
Test
range
Sunlight(9 levels)
LOW-, LOW, LOW+, NOR-,NOR, NOR+, HGH-, HGH, HGH+
Moisture(5 levels)
DRY+, DRY, NOR, WET, WET+
PHvalue(12 levels)
3.5~9.0 (display resolution 0.5)
Accuracy
±0.5 PH
temperature
-9~+50

ºC

(16~122F) (display resolution 1

ºC

/1F)
Accuracy
±1

ºC

Power supply
One 9v block battery
Automatic off
The unit will be automatically off after 5 minutes disabling
Operating temperature
+5

ºC

~+40

ºC

Size
Main unit
122mm*63mm*36mm
Test probe
Ø5mm*20mm
Weight
0.23kg
Color box packing
35*8*6cm
Master carton
20pcs/ctn, ctn size:

44*37*28.5cm

(volume G.W.: 9.5KGS)
Light Level: 9 Levels
The meter shows the "Display" value when the light level is between the "low" and the "high Lux" value in the table:
| | | |
| --- | --- | --- |
| Display Value | Low Lux | High Lux |
| Low- | 0 | 500 |
| Low | 500 | 5,000 |
| Low+ | 5,000 | 10,000 |
| Nor- | 10,000 | 25,000 |
| Nor | 25,000 | 60,000 |
| Nor+ | 60,000 | 80,000 |
| Hgh- | 80,000 | 100,000 |
| Hgh | 100,000 | 120,000 |
| Hgh+ | 120,000 | greater |
Soil Moisture: 5 Levels
Dry+: less than 5%
Dry: 5-10%
NOR: 10-20%
WET: 20-30%
WET+: more than 30%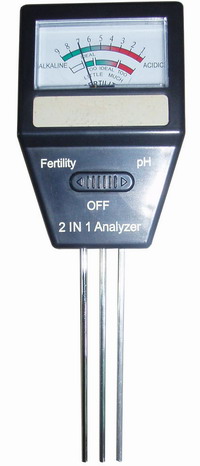 SR7032 2in1 pH & Fertility Analyzer
PH&fertility analyzer
Give accurate results of the PH and fertility of the soil
No batteries required
The Ph portion of the tester utilizes the chemical reaction known as oxidation-reduction to measure PH within the range of 1 through 9
The fertility portion of the tester measures the soil's nitrogen, phosphorous and potash(NPK) content, in combination.
Fertility is within the range of too little, ideal and too much.
Specifications:
- pH range: 1 - 9.0
-Fertility: too little, ideal, too much
Pack style:Blister

 

 

Unit size

 

18*6.3*3cm

Unit weight

0.1KG

 

Package

 

60PCS/CTN

Carton Dimenstions

61*42.5*20.5cm/60pcs

Gross Weight

7.5kg

(volume G.W.: 10.7KGS)

Net Weight

7kg

 

Carton Volumn(cbm)

0.053

 

Innerbox Dimenstions

12*41*19/12PCS

PCS in 20FCL

30000pcs

 

PCS in 40FCL

64440pcs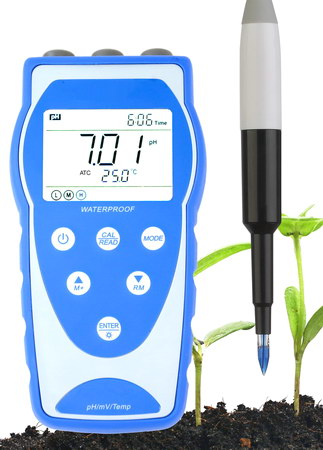 How to direct-test soil pH?
If the soil is dry, add a small amount of distilled or RO water to moisten the soil (do NOT add tap water since it will affect the pH value significantly). Ideally, wait 24 hours before you take a measurement.
Insert the pH connector (the blue one) to the pH socket, and twist it clockwise to lock in; Insert the temperature connector to the temperature socket.
Rinse the probe with distilled water/RO water before inserting it into the soil.
If measuring outside of solution, rockwool or small pots, remove the top 5cm/2inch soil from the surface of the sample area. Insert the probe approximately 4 to 6 inches (10 to 15cm) into the soil samples from various locations (3 to 4), wait for the stable readings before recording (smiley face icon stays on the screen).
Users can press the M+ button to save the stable readings on the meter. Then take the average of the measured data as the representative pH level of the sample area.
Do NOT use extra force to insert the probe. If you feel like the probe can't be inserted any deeper, stop inserting. The spear tip could break.
Rinse off the soil residue between tests using distilled water for the best results. Use the probe cleaning brush in the case if needed.
SR811-SL Portable pH Meter for Soil
The SR811-SL Portable pH Meter is designed for professional direct soil pH measurements. The equipped Swiss LabSen 553 3-in-1 POM pH/Temp. Electrode adopts Polymer electrolyte, Long-Life reference system, and a unique blue spear sensor tip, making precise direct soil pH measurement easier than ever.
Features:
* Equipped with Swiss LabSen 553 Professional 3-in-1 pH/Temperature Spear Electrode, this SR811-SL professional soil pH meter is designed for direct soil pH measurement. Say goodbye to slurry making.
* This soil pH meter has a ±0.01 pH accuracy in a range of 0-14 pH, and Temperature Range: -5 to 80°C (23 to 176°F), Auto Calibration with auto recognition of up to 12 kinds of buffer solutions, Auto. Temp. Compensation, and supports stable reading/auto-hold display mode. The meter's digital filter technology improves response time and accuracy.
* Intelligent Functions: Self-Diagnosis of out-of-range value and electrode invalidation, calibration reminders, calibration date checking, clock display, easy parameter setting.
* GLP standard data management, 500 data sets of storage, manual/auto storage, USB data output.
* Reliable Structure Design: Large white backlit LCD, soft silicone case gives you a comfortable grip, IP57 waterproof rating.
* Powered by AAA batteries; the foldable stand also allows use as a benchtop meter.
* The meter is CE certified and comes with a 2-year warranty (6-month for the probe).
Specifications
Meter's Specs

pH

Range

-2.00 ~ 19.99 pH

Resolution

0.01/0.1 pH

Accuracy

±0.01 pH ±1 digit

Temperature Compensation

0 to 100 ˚C (Auto or Manual)

mV

Range

-1999 ~ +1999 mV

Resolution

-200 mV ~ 0 ~ +200 mV: 0.1 mV; Remaining: 1 mV

Accuracy

±0.1% F.S ±1 digit

Temp.

Range

0 to 60˚C (32 to 140˚F)

Resolution

0.1°C

Accuracy

±0.5°C ±1 digit

Data Storage
500 groups

Storage Content

Numbering, date, time, measurement, unit, temperature

Output
USB

Power

AA Batteries * 3/ DC5V (USB port)

IP Ranking

IP57 dust-proof and waterproof

Dimensions& Weight

Meter: 88*170*33mm/ 313g,

With case: 360*270*76mm/ 1.6kg

Electrode's Specs

Material

POM

Temperature sensor

Yes

Junction

Ceramic Single Pore

Reference Electrode

Long-Life

Electrolyte

Polymer

Range

0-14 pH

Temperature Range

0 to 60°C (32 to 140°F)

Connector

BNC and RCA